Die Aktion habe ich bei Juliana von Book Experiences entdeckt und mehr Infos gibt es
hier
.
Kurzum geht es darum, dass jeden Mittwoch ein Buch von der Wuli vorgestellt werden soll.
Mein heutiger Wunsch der Woche ist: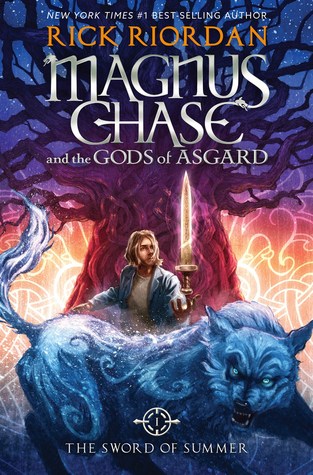 Magnus Chase has always been a troubled kid. Since his mother's mysterious death, he's lived alone on the streets of Boston, surviving by his wits, keeping one step ahead of the police and the truant officers.
One day, he's tracked down by a man he's never met—a man his mother claimed was dangerous. The man tells him an impossible secret: Magnus is the son of a Norse god.
The Viking myths are true. The gods of Asgard are preparing for war. Trolls, giants and worse monsters are stirring for doomsday. To prevent Ragnarok, Magnus must search the Nine Worlds for a weapon that has been lost for thousands of years.
When an attack by fire giants forces him to choose between his own safety and the lives of hundreds of innocents, Magnus makes a fatal decision.
Sometimes, the only way to start a new life is to die . . .
(Quelle: Goodreads)
Ich glaube, ich brauche gar nicht mehr zu erwähnen, dass Rick Riordan zu meinen absoluten Lieblingsautoren gehört und ich seine PJ-Reihe, HoO-Reihe und Kane Chronicles über alles liebe.
Ich kann ehrlich auch nicht glauben, dass ich den ersten Band von Magnus Chase noch nicht gelesen habe, obwohl er jetzt schon fast eine Woche draußen ist, aber vielleicht ist das nur mein Selbstschutzmechanismus, der mich vor dem Cliffhanger (der zweifelsohne kommt) beschützen will, weil ich ja dann bis nächsten Oktober warten muss.
(Vermutlich lese ich die Reihe dann, wenn alle 5 Bände draußen sind. ... Nein, so lange halte ich es nicht aus. Außerdem erscheint ja nächsten Mai schon The Hidden Oracle (The Trials of Apollo #1))
Diese Reihe ist seit letzten Oktober mein Neuerscheinungshighlight für 2015 und wird dieses Jahr auf jeden Fall noch bei mir einziehen und gelesen. :)